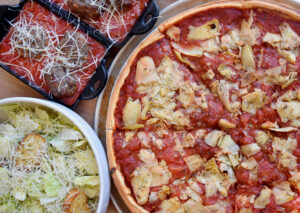 Who loves their community, wants to show that love for their community, and uses pizza as their love language? We hope you said us 😉 
Zachary's Family Meal Deal Mondays to Thursdays in June!
Starting this Monday, June 1st, Mondays to Thursdays from 4pm to close we'll be offering a Zachary's Family Meal Deal. For $55 plus tax, you can choose either a large stuffed OR an extra large thin Zachary's Favorite or up to 3 topping pizza. With that comes an entree salad of choice and two orders of our Zachary's Meatballs, all easily feeding 4-5 adults! Tired of cooking (yes), or trying to think of new creative meals (double yes). We've taken the hassle and boredom out of dinner and made it easy and convenient. You've got your app, your greens, and your main course in one simple package. Isn't that just lovely? Place your orders over the phone and pay at the same time for easy and quick pickups. Or, order online with promo code "ZachsFam." Promo code only available during promotional hours. If you want to make it an official party (and why wouldn't you?), we also have great deals on packs of beer and bottles of wine.
*Half and half pizzas are not included. Any extra toppings will be charged. Third party delivery orders are excluded. Available Monday to Thursday, 4pm to close. Valid at all locations.
Plus! 20% Off Half-Bakes Monday to Wednesday Continues Through June!
Y'all really like this one, and we understand why. Because half-bakes are the easiest and most convenient pizza everrrrr. Never made one and wondering just how easy they are? Check out this featured story on our Instagram. Maybe the best feature is they last up to 4 days in your refrigerator, so you can pick one up midweek at a discount and enjoy it before your Zoom Saturday night dance party. We're partial to 2000's hip hop dance parties ourselves.
*Available Monday to Wednesday on half-baked pizzas picked up before 4pm. Fully cooked pizzas are not included. Valid on walk-in and phone orders. Pay when you place your order over the phone for easy and quick pickups.  Personal sized pizzas not available half-baked. Online and third-party delivery orders excluded.