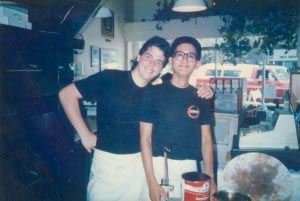 Zachary's was founded in 1983 by Zach Zachowski and Barbara Gabel. Our employee ownership program began in 2003 via an ESOP (Employee Stock Ownership Plan).  Through the vision of our founders, Zachary's is now a 100% employee owned company.
Our employees are our only investors, and our people are the heart and soul of our business. We have a diverse, talented group of dedicated employees who have been loyally making and serving the Bay Area's best pizza for over 39 years. We take great pride in what we do, and we are grateful to our communities and business partners for helping Zachary's be not only a special place to dine, but a great place to work as well!
Zachary's Fun Facts:
Our CEO started as a dishwasher and recently celebrated his 38th year at Zachary's!
All of our managers and employee owners work at multiple locations. The person who made your pizza in our Oakland store very well may be the same person who made your pizza in our Pleasant Hill restaurant.
We take great pride in employee retention. 30 of our pizza makers have over 10 years of Zachary's pizza making experience. 17 of them have been making Zachary's pies for over 20 years!
If you are interested in joining our crew, check out our employment page!