We have new pizza specials at all of our locations!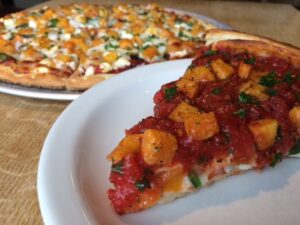 We are trying out a brand new pizza in San Ramon and Pleasant Hill! Our Butternut Squash pizza is a completely and totally delish combination of roasted butternut squash, goat cheese, spinach, red onion, fresh parsley, and mozzarella cheese. It's available stuffed or thin crust for a limited time only. This pizza is the brainchild of employee owner Justin Lassen. He credits the pizza to "the healthy appetites of the San Ramon employee owners" who helped sample lots of trial runs (poor babies!). We are super excited about this new pie (goat cheese in the stuffed pizza is out-of-control!).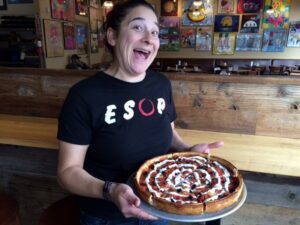 In Oakland and Berkeley, we are bringing back another employee owner original. Aria's Enchi-Holla Enchilada pizza blends two of our faves: pizza (no surprise, there!) and enchiladas! This pie is loaded with free range chicken breast marinated in green enchilada sauce, corn, cilantro, black olives, Monterey Jack and cheddar cheese. The stuffed pizza comes with a layer of corn tortillas (what?!) and the thin pizza comes with tortilla chips. Aria won our employee pizza contest a couple of years ago and her Enchi-Holla pizza became a staple in our rotating specials line-up.
Oh, Bay Area, it's a delicious week at Zachary's!