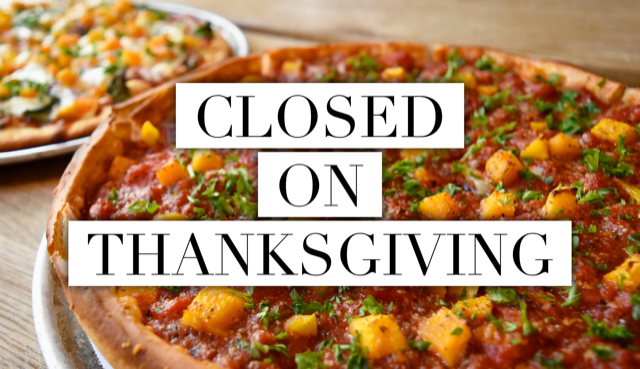 All locations will be closed on Thanksgiving Day. But what about our Thanksgiving pizza party, you ask? Half-bakes, we say.
If pizza is on your Thanksgiving menu (be it breakfast, lunch, dinner, or a midday snack ????), make sure you order half-baked pizzas to finish off on Thursday since we'll be closed. We highly recommend the following tips to ensure we're able to grace your Thanksgiving Day table, and to make it as seamless as possible for you!
ORDER & PICKUP HALF-BAKES EARLY:
Our half-baked pizzas last 4 days in the refrigerator. Beat the crowd by ordering and picking up pizzas the days leading up to Thanksgiving! Monday or Tuesday would be ideal as we anticipate a high volume of business that Wednesday. Easy-to-follow instructions come with each order. Wondering just how easy half-baked pizzas are to finish off at home? Check out our Instagram Story.
ORDER PIZZAS IN ADVANCE: Place your order now to ensure your preferred pickup day and time. You can order days in advance and have your pizzas delayed for your chosen date. Some pickup times may fill up, which is why placing your order early is highly recommended! Please note delay orders must be placed over the phone.
We'll reopen at 11am as normal at all locations November 24th!