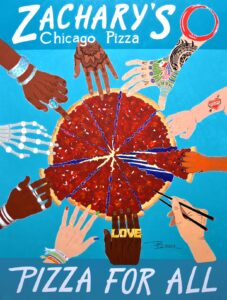 Did you know Zachary's hosts Community Fundraisers, sometimes called Dine-Out Nights, for local schools and organizations? Well, we do! We believe giving back to our local communities is a vital part of being an employee-owned, Bay Area business, and the best way to say thank you for your support!
You can host a community fundraiser at any of our locations, including our newest location on Grand Avenue in Oakland! We offer fundraisers Monday through Thursday, non holiday weeks. You will need to fill out our fundraiser application form and receive confirmation from our Community Outreach Coordinators.  Below is some useful information regarding our fundraisers:
We require a minimum three weeks lead time to schedule fundraisers.  This is for staffing purposes.  It's also for you! The more time you have to promote your fundraiser, the more successful it will be!
Fundraisers are held at the location of your choosing, however we do not host fundraisers across multiple locations for the same day/organization.
You can order for dine-in or take-out.  You will need to show a flyer (we'll provide) to your server or host so we know you are with the fundraiser.  It can be a printed copy, or via your mobile device.
Third party delivery orders are not eligible for fundraisers.
Fundraisers run from the time we open to the time we close. Hours vary by location.
Reservations available at select locations based on availability. Please call our San Ramon or Pleasant Hill location to inquire. Our Oakland and Berkeley locations do not offer reservations.
Donation amount is based off of the pre-tax subtotal of sales generated by your school or organization.
We are an employee-owned company and represent a diverse group of owners (and customers!). Therefore, we do not align ourselves with political organizations or positions. Thank you for your understanding and support.
Please click the link to fill out an application or email, fundraising@zacharys.com for further information.
We look forward to hosting you!