Since 1983, Zachary's has been making award-winning pizza in the San Francisco Bay Area. When Zachary's founders, Zach Zachowski and Barbara Gabel decided to retire, they handed the company over to the employees via an Employee Stock Ownership Plan (ESOP). In 2010, Zachary's became 100% employee owned.
Our employee owners are the mojo behind the madness. They make each of our restaurants unique, fun, and delicious.  You may recognize our latest spotlight as one of our Oaklandish t-shirt models, but usually Edwin Jimenez's friendly smile can be found in the kitchens of San Ramon. After almost a decade with Zachary's, Edwin has recently been promoted to kitchen supervisor, a position that reflects his dedication to great pizza and the amazing people that make Zachary's—and the Bay—home.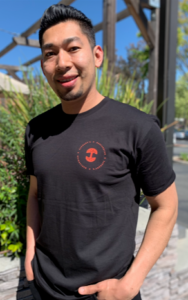 Spotlight
Name: Edwin Jimenez
Hire Date: September 2010
Fave Pizza: Spinach and Mushroom
Fave Food: Pupusas and Tacos!
Current Location: Hayward
Home Restaurant: San Ramon
Zachary's Claim to Fame: Edwin is known for his stellar reliability and sense of teamwork. He understands our success is based on the team, not the individual. He is a true team player in this regard, helping guide and direct our crew to be the best they can. His deep respect for his coworkers and the pride he takes in making perfect pizzas, make Edwin an all around employee-owner superstar!
     
Interview*
*Edwin was interviewed by Zachary's Marketing Manager, Robin Smith
Robin (R): What attracted you to Zachary's Pizza or made you choose to work here?
Edwin (E): To be honest, before Zachary's I started working at another [pizza] restaurant because I love pizza and I had the chance to work over there.  But then Alvaro (a fellow San Ramon kitchen employee-owner) talked to me about [Zachary's] and the opportunity, I didn't think twice. I came for the pizza but I stayed because I really liked the environment and the people. That's why I stay. I came for pizza. [Both laugh]
R: The draw was the pizza
E: Yes.
R: What is one of your favorite aspects about working at Zachary's?
E: It's funny that you mention it, but I like the reaction of people when I say, "I work at Zachary's." A lot of people [say], "oh, really?" That's very genuine that people react in a really good way that I work at Zachary's because they've heard a lot of good things about the restaurant- the food, the pizza is awesome. So I like that reaction.
R: They're excited.
E: Yeah, excited. And the funny thing is they start talking about experiences that they've had or things that they've heard about this place or the pizza or about all the awards, you know, and that's good, that's amazing. I like that.
R: It makes you feel good.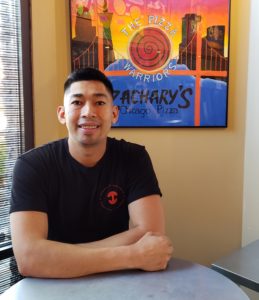 E: It makes you feel proud.
R: So spinning on that feeling of pride, what does being an Employee Owner mean to you?
E: It makes me feel more engaged with my job. It's more responsibility because I'm not just working for someone. I'm working for this place that cares about me…everything I do I have to do with quality and excellence because they do care a lot about me and I care about this restaurant too.
R: Besides being an employee owned company, what are some of the things that make you feel that engagement and keeps you motivated to accept a supervisor position, like you recently did?
E: The reason why is because I felt like, for so many years, I received a lot from this restaurant and this company and I feel like it was time for me to give something back.  To step up and do a little more than what I was doing, like taking another level…Like saying, thank you so much for everything you have done for me…I am going to do something for you guys. I'm going to do my best, help the new guys, if something needs to be fixed, let's do it, I'm going to help, I'm going to do more.
R: What's something you love about living in the Bay Area?
E: To be honest I always talk about that with people that come and visit the area and the first thing they say is that they love the area. That they've been in…different places around the world, some of my friends that have come to visit and they've said this is the best place to live. And to be honest, I love a lot of things about this area. First of all, I love the weather. The weather is perfect. And the fact that you can go to the city, the mountains, to the snow, everything you want to do, everywhere you want to go, it's a plus. The location is perfect. The weather is perfect. And then the third thing that I love about this area is the people. To be honest the people. They make me feel like I'm welcome here. I feel like I've never been treated in a bad way, or seen in a bad way, and I really like that. I really appreciate the people make me feel like I'm welcome here.
R: Absolutely. That's important. You need to feel welcome where you live. When people come and visit, what are some of the things that you show off to them?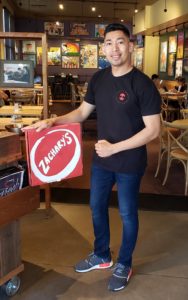 E: The lifestyle here, it's pretty good. You can go either shopping or you can go visiting museums. The Academy of Sciences in San Francisco is really good. The views. The views are amazing. Places like the Golden Gate, Santa Cruz, things like that. The view that you get when you drive on the Highway 1.  All those things make this place very special and I like to show that to the people that come and visit. What else?  The food. There's a lot of good places you can go and dine in and have a good time.
R: Speaking of food, what's your favorite Zachary's pizza?
E: I gotta say, the OG, it has to be the Spinach and Mushroom. Yeah, that's the best.
R: I mean, you can't go wrong…
E: Yes, that is the best one.
R: I agree.
E: And I like how spinach and mushroom complement each other. They create another, totally different flavor. Yes, so that's my favorite.
R: Hand's down. [Laughs] Do you have anything else you'd like to talk about or add about your experience at Zachary's? Besides being the model for the Zachary's t-shirt? [Both laugh]
E:  The only thing that I would say is that I learn so many things here. I learn that this place…gives me the chance to grow up. Not just as an employee, but as a person. And I have the chance to meet a lot of beautiful people here and I'm happy with that. And I'm thankful because I feel like this place attracts a lot of beautiful people and they help me in different ways…some with their friendship, some with advice, but all to be the person I am.  I really enjoy it because, to be honest, I've been spending a lot of time here. It's going to be almost a decade now, and I'm thankful because it's not everywhere you have a chance to meet people…It's good. I'm happy with that and I'm thankful for that.