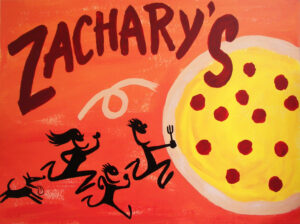 Zachary's Pizza is always looking for energetic, highly motivated, hard working people to employ in our Oakland, Berkeley, Pleasant Hill and Pleasanton locations in the East Bay, San Francisco Bay Area, California. If you are interested in joining an amazing employee-owned and award-winning company that values hospitality, teamwork, mutual respect, camaraderie, and of course FUN, then send us your application! 
Dining Room Crew (Host/Waiter)
Dining Room Crew positions include a variety of host positions (greeting and helping customers, working behind the counter, answering phones, bussing tables, etc.), and the potential to wait tables. You must be 18 years old to wait tables and at least 16 years old* to work as a host.
Kitchen Crew
Kitchen Crew positions may include some or all of the following:
dishwashing, pizza making, food preparation, cleaning, minor maintenance, and operation of machinery. You must be available on Sundays. You must be at least 16 years old* to work in the kitchen.
There are three ways to apply to Zachary's.
1. Apply online. Click here for the Zachary's online application: Pleasant Hill/Pleasanton
2. Download our Employment Application and drop it off at any Zachary's location or mail it to the address below.
Click here for the downloadable application: Zachary's Employment Application
3. Pick up an application at any Zachary's location and apply in person!
Mail completed employment application to:
Zachary's Chicago Pizza, Inc.
Attn. Employment
5801 College Ave.
Oakland, CA 94618
*Please note that positions for high school applicants are limited.
Zachary's values diversity in the workplace and among our customers. Our company provides equal opportunity for employment to qualified applicants on the basis of experience and the ability to do the available work, without regard to race, religion, color, age, sex/gender, sexual orientation, national origin, gender identity, disability, marital status, veteran status, genetic information, ancestry or any other status protected by law. Zachary's is also committed to compliance with all fair employment practices regarding citizenship and immigration status.