One of the things that we are the most proud of is our long term relationship with our suppliers. We are truly fortunate to have close relationships with several companies that keep us stocked with fresh and delicious ingredients to make our pizza and various other products that we need to keep our restaurants running smoothly. In fact, when our founders, Zach Zachowski and Barbara Gabel, decided to retire, they were keenly aware of the impact that ending a relationship with a distributor could have on the distributor's business. A perk of Zach and Barbara's decision to sell the company to the employees (read more about our ESOP here), was that our relationships with our distributors stayed intact!
We were reminded of the notability of our relationship with one such supplier, Mike Hudson Distributing, based in Petaluma, CA, when we learned about one of our long term delivery drivers getting a route change. Jeff has been delivering to Zachary's for 14 years!! He learned a few weeks ago that he could have the opportunity to drive in Humboldt County. This was a good move for him, so he let us know that he was saying good bye. The management team immediately moved to put together a Zachary's care package for him, wrapped up in one of the pizza boxes he has been delivering to us since 2003. Here is a picture of Jeff cheesin' with Zachary's employee owners Mario, Arturo and Hugo: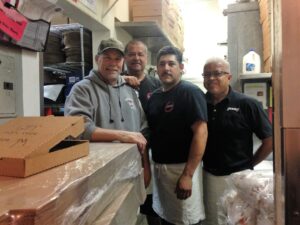 Shhhh, don't tell anyone, but Jeff said he would miss us the most!
Best of luck to Jeff as he embarks on this new journey!