Two of our favorite pizza specials are available for a limited time!
At our OAKLAND and BERKELEY locations, Aria's crowd-pleasing ENCHI-HOLLA Enchilada pizza is back! Aria won an employee pizza contest a couple of years ago in both "Most Creative" and "Best Pizza" categories. Her tasty creation has our free range chicken breast marinated in a green enchilada sauce, corn, cilantro, black olives, a cool swirl of sour cream, Monterey Jack and cheddar cheese. It's available stuffed (comes with corn tortillas under the sauce) or thin crust (comes with tortilla chips).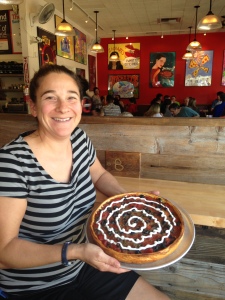 At our SAN RAMON and PLEASANT HILL locations, our super popular and super delicious ROASTED PEPPER pizza  is back. It's made with red, green and yellow bell peppers, Anaheim chiles, Pasilla peppers, onions, yellow cheddar and Monterey Jack cheese and available stuffed or thin.