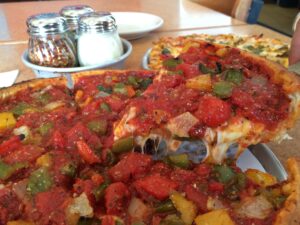 In Pleasant Hill and San Ramon, we are bringing back one of our most popular specials – Roasted Pepper! This crew and customer favorite has red, green and yellow peppers, Anaheim chiles, Pasilla peppers, onion, yellow cheddar and Monterey Jack cheese. It's available stuffed and thin for a limited time!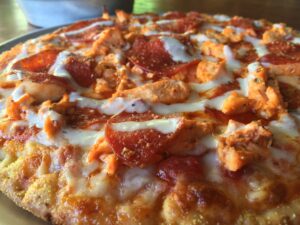 In Oakland and Berkeley, we are keeping the Buffalo Chicken pizza around for another week! This spicy special is made with our free-range chicken breast flavored with a cayenne pepper "wing sauce", pepperoni, mozzarella cheese and topped with our house-made blue cheese dressing. This pizza is available stuffed and thin crust for a limited time!
Our CEO (Kevin) grew up in Buffalo, NY and drew inspiration for this pizza from the sauce of his homeland. Kevin writes, "Growing up in Buffalo, pizza night always meant pepperoni pizza and a bucket of chicken wings with blue cheese dressing. The flavor of Buffalo wings and pepperoni pizza work really well together, so I figured why not try combining those flavors on our pizza?"
We think you will enjoy this combination just as much as Kevin did as a kid in Buffalo.