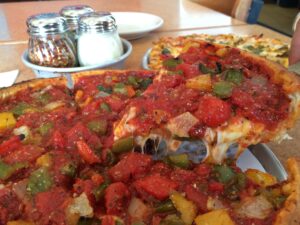 Our super popular and super delicious Roasted Pepper special is back in Oakland and Berkeley. This is an all-time favorite of our beloved crew. It comes with red, green and yellow bell peppers, Anaheim chiles, Pasilla peppers, onions, yellow cheddar and Monterey Jack cheese. It's available stuffed or thin. This is a veggie-filled special for all of the veggie lovers out there! HOT TIP: If you do dabble in carnivorous delights, add pepperoni TO THE TOP of this pizza. Trust us, it's goooood.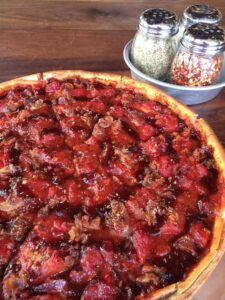 At our San Ramon and Pleasant Hill  locations, we are keeping the Zachary's Western for a bit longer!
This pizza, a creation of San Ramon/Pleasant Hill Regional Manager and overall pizza virtuoso (not sure if you can be a pizza virtuoso… why not?), Luis Ibarra, is packed with Italian sausage, onions, bacon, our sweet-smokey barbecue sauce and loads of mozzarella. It's available stuffed and thin for a limited time only!