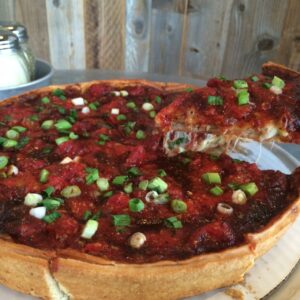 We are introducing a brand new pizza special in Pleasant Hill and San Ramon! It's the Teriyaki Chicken pizza! This pizza was the brainchild of crew member, Chris Mariano.  He developed this delightfully sweet and salty special for a crew pizza contest and he won in the "Most Creative Pizza" category!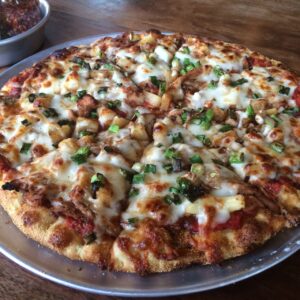 When asked about his inspiration for this pizza, Mariano replied, "I had a little extra teriyaki sauce and I wanted to put it on a pizza. I had just returned from Hawaii, so it was fresh in my head… that island flavor. I thought about what goes well with teriyaki and pineapple and green onion made sense."
The Teriyaki Chicken pizza is made with our free-range chicken breast marinated in a sweet teriyaki sauce, pineapple, green onions and Monterey Jack cheese. It's available stuffed or thin crust.