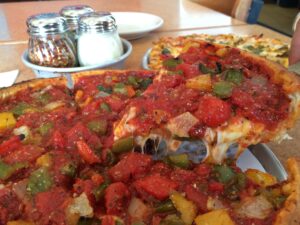 Our super popular and super delicious Roasted Pepper special is back in Oakland and Berkeley. This is an all-time crew favorite. It comes with red, green and yellow bell peppers, Anaheim chiles, Pasilla peppers, onions, yellow cheddar and Monterey Jack cheese. It's available stuffed or thin.
This pizza is completely vegetarian; we can certainly make it vegan too! If you are of the meat-eating persuasion, you are more than welcome to add your favorite protein, although we recommend pepperoni. The slightly spicy note in our pepperoni pairs perfectly with the earthy peppers!
The Roasted Pepper special is only available for a limited time, so act fast!