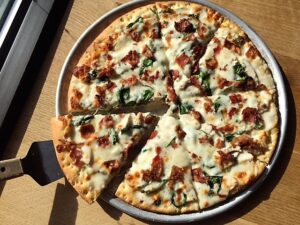 We have a brand new, never-before-featured-at-Zachary's pizza special in San Ramon and Pleasant Hill! It's the Zachary's Chicken Alfredo pizza! This tomato sauce-free pizza uses a rich and creamy Alfredo sauce to bind and connect the other flavors on the pizza: our free range chicken breast, fresh spinach, bacon and mozzarella cheese. It's available as a thin crust pizza only. We are super excited to try something new; we hope that you are too. It's only around for a limited time!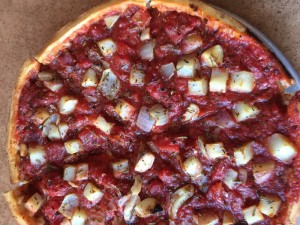 In Oakland and Berkeley, we are bringing back the ultimate in comfort pizza… our Roasted Potato pizza. This deliciously delightful pie is made with oven roasted red potatoes, chopped onion, garlic, fresh rosemary and Monterey Jack cheese. It's available stuffed or thin crust.
Both pizzas are only available for a limited time! Plan accordingly!