It's new pizza special time!! Yippee!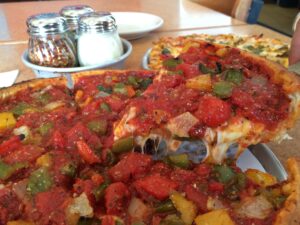 Our Berkeley and Oakland locations have the long-awaited and always popular Roasted Pepper Special! This crew favorite has red, green and yellow bell peppers, Anaheim chiles, Pasilla peppers, onions, yellow cheddar and Monterey Jack cheese. It's available stuffed or thin. Hint from the meat eaters at Zachary's… add pepperoni to this pizza for some serious extra yum.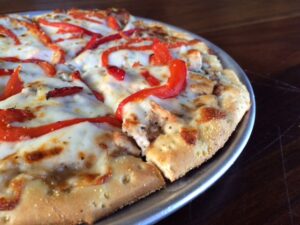 Our San Ramon and Pleasant Hill locations are also pretty lucky this week. Employee Owner Justin Lassen created a uniquely delicious pizza for our locations in the East! On Justin's Chicken Gorgonzola Pizza, we replace our red sauce with a hint of our tangy shallot balsamic vinaigrette, topped with free range chicken breast, fire-roasted red bell peppers, gorgonzola and mozzarella cheese. This one is only available as a thin crust.