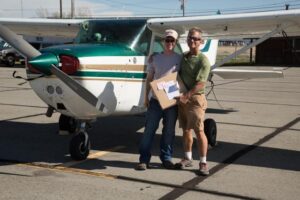 We recently received a fun email from former Bay Area resident, Richard Weerts:
"Hello Zachary's team:
Thought you might like this little story and pics.
A year ago my wife and I moved to the mountains from the East Bay. We miss Zachary's Pizza from our usual Rockridge Oakland Zachary's location.
So it's my birthday and my son Ben surprises me with a special delivery – Zachary's half-bake stuffed spinach and mushroom delivered by airplane to our little local airstrip."
We love this story! We are so lucky to have such loyal and adventurous folks in the Zachary's fan-base. And we think Richard is pretty lucky to have a son like Ben! Thanks for sharing Richard!