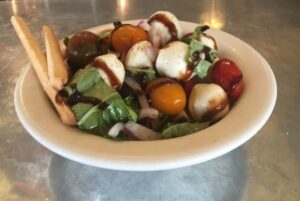 We are ready to celebrate warm weather and late summer nights with several fun, new menu items!
In Pleasant Hill, we are starting our Ciliegine Salad! It's a beautiful salad of heirloom cherry tomatoes, red and yellow grape tomatoes, fresh basil, red onion and fresh Ciliegine mozzarella cheese balls tossed in olive oil and topped with a sweet balsamic glaze.
Also making its debut in Pleasant Hill is our Insalata Pizza! It's a light, buttery, three cheese pizza topped with mixed greens, tomatoes and red onions tossed in our vinaigrette and finished with feta cheese and a sweet balsamic glaze.
Summer Beverages
Mint Iced Tea: Oakland and Berkeley
Sangria: Oakland, Pleasant Hill and San Ramon (weekends only!)