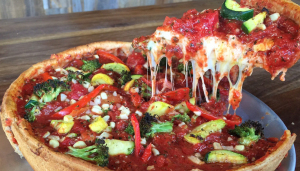 Our Super Veggie special, one of our all-time most popular rotating specials, is getting some time in the limelight! It's our weekly special in San Ramon and Pleasant Hill AND it's on our permanent menu in Oakland and Berkeley! Permanent menu, folks; this is the big time! We know there are lots of folks who are going to be excited about this menu addition; we are pretty thrilled too!
This veggie-licious pizza has zucchini, yellow squash, red bell peppers, broccoli and white corn with a blend of yellow cheddar and Monterey Jack on our wheat crust. It's available stuffed and thin!
So if San Ramon and Pleasant Hill are your Zachary's locations of choice, get your Super Veggie in ASAP. And if you are in Oakland or Berkeley, maybe it's time to make every Wednesday pizza night!