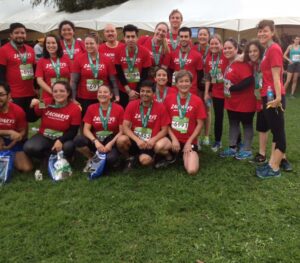 On Sunday, March 20th, Team Zachary's woke up bright and early to line up at the starting line of the Oakland Running Festival's Annual 5K! Forty-three people wore bright red Zachary's shirts and ran their hearts out.
Team Zachary's organizer, Chloe Eng, said "For me, this 5K was about combining three things that provide me great joy: beautiful Oakland, my love of running and my awesome Zachary's coworkers. It was a proud moment to see everyone out there together, sharing so much support and so many smiles."
"For some it was their first, for others their 100th, but we were all out there together as a team promoting camaraderie and just being healthy. It was a blast!" – Aria Vadney, Oakland runner and Zachary's Manager
Visit the Oakland Running Festival's website for more information about the race!