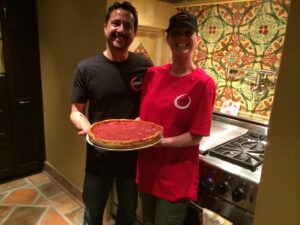 Hey All – my name is Becki. My Zachary's Pizza business card has the title 'People Person'. That is really a just a fun way to say—Human Resources with a dash of customer interaction! Since I am the one in the office the most—I check our company emails and help facilitate responses.  Once in a while I come across an opportunity where I can do something fun… and that's exactly what happened a few months back.
I opened an email from an incredibly loyal customer (Angie) based in Southern California. Long story short, her husband's (Michael) 50th birthday was coming up and she wanted to know if there was any way to get Zachary's pizza to the party.  After a quick back and forth on some options that didn't pan out—I took a shot in the dark. I asked her when her husband's birthday was. See-I had a pre-planned vacation (with my fella and his daughter-Alex) in Southern California in just a few weeks. Maybe—just maybe—timing would work out.
As you might imagine—timing worked out (hence—the blog post title—Timing is Everything!).  I was driving down to So. Cal the day after his big surprise party.  It was so perfect I couldn't believe it myself.  I coordinated with Angie to arrive around 1p or so and I would ring the doorbell with a Zachary's shirt on and of course-2 LARGE Spinach and Mushrooms Half-Bakes.  We exchanged numbers and texted back and forth on the drive down-honestly it was the fastest drive I've ever had down I-5!  Alex was so excited about surprising someone that the trip was filled was questions and musings on how he would react.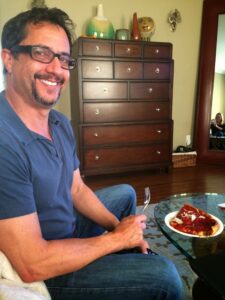 I was nervous when I rang the doorbell—surprises are nerve wracking in the best way possible! Michael answered the door-and when I said-"Hi I'm Becki from Zachary's and someone said that you might want Zachary's for your birthday"-he looked confused and happy! Angie came over and we explained the whole surprise. It was really great….and perfect timing again because he was hungry!  We said goodbye and after we had driven away—Alex said-"Didn't you want to take a picture?". Oh yeah—so I quickly texted Angie to please take a picture and pass it back to me! I wanted to keep that one in the Zachary's memory books.
A few days later—I got a great email of thanks from Michael (and he enclosed the attached pictures!). Come to find out he has been eating Zachary's since 1987 and even rented a car from San Jose airport just to pick up a pizza!!  Now-that's loyalty—and that's what we are the most proud of and thankful for at Zachary's. Loyal customers are gold and are directly related to our long term success—BIG THANKS!
PS–Thanks again to Angie and Michael! It was a super fun.