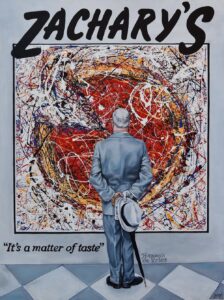 Zachary's Art Contest is officially up and running!
How Does the Art Contest Work?
Contest begins January 28, 2019 and ends May 1, 2019
Contest is open to all ages, from the young to the young at heart
The subject of the artwork should be Zachary's Chicago Pizza and the artwork should include either our logo and/or name. You may use the medium of your choice, but we recommend VIBRANT, SATURATED choices like paint, dark pastels or digital art.  Colored pencils and crayons tend to get washed out against other pieces in our restaurant.  Please remember, some of the art will be hanging up high so utilize the space you are given.  Fill it up and make it bold!
We are accepting four different sizes for art pieces (26 x 26, 24 x 36, 32 x 32, 36 X 48). Pre-cut paper is available at any Zachary's location.
All winning artwork and any reproductions of the artwork become property of Zachary's Chicago Pizza and will not be returned.
WINNERS PRIZES: $100 Zachary's Gift Certificate & 2 Zachary's Shirts
Fill us in on your progress (social media links below!) #zacharysartcontest2019
Click HERE to download the rules and an official entry form.
Visit our art page to see more examples of winning art pieces! You can also see lots of examples of winning entries on the walls at each of our locations.