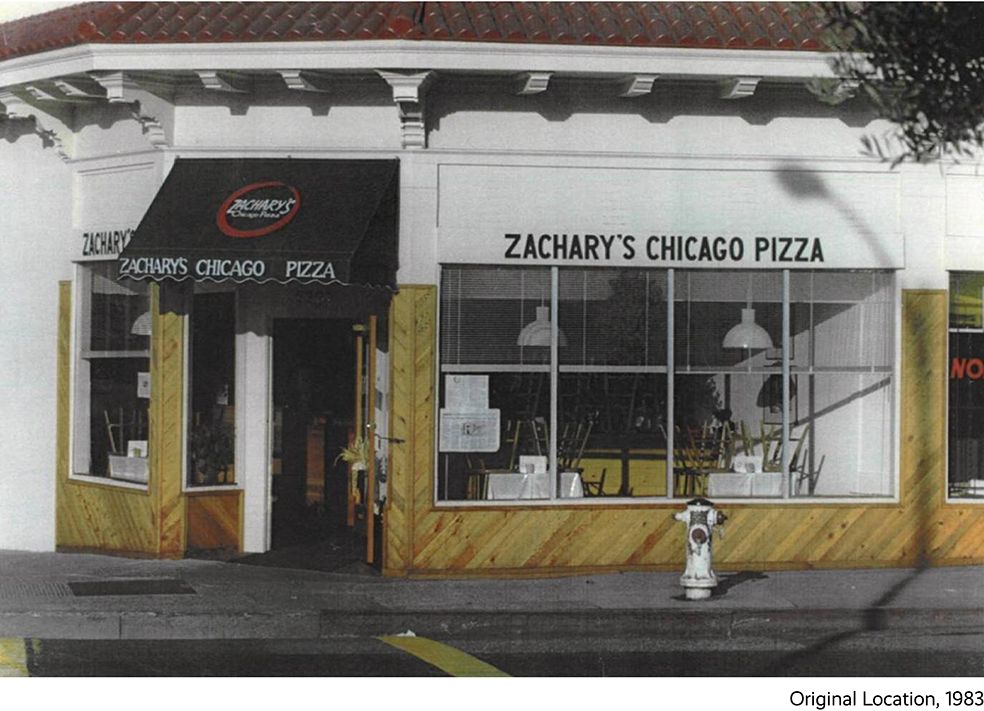 The year is 1983. The scene. College Avenue, Oakland California. The players. A young couple from Wisconsin. The dream. To open a Chicago-style stuffed pizza restaurant with a California twist. Enter- Zachary's Chicago Pizza.
Four decades, innumerable hours, thousands of pizzas, and a whole lot of hard work, and here we are celebrating our 40th Anniversary! From that first Zachary's, a tiny little restaurant on College Ave in Oakland, to today with five East Bay locations, over 225 'Best Pizza' Awards, and 100% employee-ownership, we couldn't be more grateful for the love and support from our amazing communities and customers.
Join us on July 25th as we commemorate 40 amazing years! To show our appreciation and mark this momentous milestone and our birth year, our ready-to-go, small, stuffed Spinach & Mushroom half-baked pizzas will sell for just $19.83! Stop by and pick one up to finish cooking at home for dinner. Or better yet, stock up for the week or weekend and (pizza) party like it's 1983! 😜
All five Zachary's locations will be participating from 11am to closing on July 25th. Limit of 3 pizzas per person. Small, ready-to-go, Spinach & Mushroom half-baked pizzas only. No preorders or holds. Third-party delivery and online orders are excluded. First come, first served and while supplies last.
Note: Our dining room at Zachary's Rockridge will be closing at 4:30pm that afternoon for a private event; that location will still be open for takeout (and those $19.83 half-baked pizzas!) all day. All other locations will be open for both dine-in and takeout during normal hours. If you were planning to dine at Zachary's Rockridge on July 25th after 4:30pm, we recommend visiting Zachary's Grand Lake instead! 
Additional Special Events on July 25th!
Dine-in at Zachary's Grand Lake, Pleasanton, and North Berkeley Tuesday evening and enjoy live music from three Bay Area high schools!
Jazz ensembles from Amador Valley, Berkeley, and Oakland High Schools will be performing Tuesday evening. All three groups are incredibly talented and we are so excited to have them performing for our anniversary! All performances are slated to start around 6pm.
Zachary's Grand Lake is featuring a jazz duo from Oakland High Jazz Band, Zachary's North Berkeley is featuring a jazz trio curtesy of Berkeley High Jazz, and Zachary's Pleasanton is welcoming Amador Jazz Collective from Amador Valley High Jazz on the patio! Come for the pizza, stay for the ambiance
Dine-in for dinner at Zachary's Pleasant Hill for the chance to win a free pizza!
That's all you need to do! We'll be drawing a random dine-in table number at 6pm, 7pm, and 8pm on Tuesday, July 25th and the winning table receives a free pizza! You must be dining in with us at the time of the raffle for your table to be included.  
Thank you for your unwavering support, and here's to another four decades of serving the best customers and communities ever. We can't wait to celebrate with you on July 25th! 🎉🤗🍕