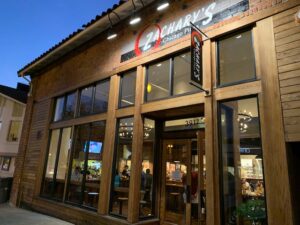 It's official! Our newest location on Grand Ave in Oakland is open and ready to serve you the award winning, stuffed pizza you've come to know and love! We had a soft opening this past Monday, October 21st, 2019 at 5pm.  We are so excited and happy to be joining the wonderful and historic Grand Lake neighborhood and can't wait to meet new friends and see old ones!
At Zachary's on Grand we offer a full bar with a custom-made cocktail menu.  We encourage you to take advantage of this lovely area, with floor to ceiling windows, as you wait for your to-go orders in person or for your dine-in table. Please note in these first few months of business, we anticipate dine-in wait times and pizza cooking times to be slightly longer than normal.  In addition, it may be difficult to get through on our phones to place to-go orders.  We thank you for your patience in advance as we adjust to our latest location.
We'll be open for dinner nightly at 4pm until 10pm Sunday through Thursday, and 4pm to 10:30pm Friday and Saturday.  Lunch service will begin in a few weeks! Thank you Bay Area for all of your support and positive energy in making our latest dream a reality!
3917 Grand Ave, Oakland
(510) 658-3226
Sun-Thurs: 4pm-10pm
Fri-Sat: 4pm-1030pm