Over the past two decades, our artists have been inspired by a wide range of topics. History? Fictional characters? Popular Culture? Pizza (duh!)? You name it. One theme that consistently shows up in the contests every year is our artists' love of animals.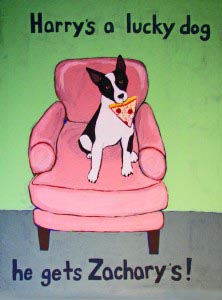 Our first example of animal-inspired art is this piece by Lisa Hayle. Hayle has been inspired by her dog Harry for years. Lisa writes, "I heard about Zachary's Pizza through friends who also mentioned the awesome annual poster contest, which they had won in the past with an entry featuring their two adorable poodles. Soon after, I tasted the deep-dish yumminess for the first time…. I first saw Harry in 2002, while working briefly at the East Bay SPCA in Oakland. It was love at first sight."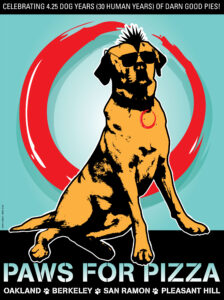 Another canine-inspired piece is "Dog Years" by artist Ian Ransley (visit Ian's website here!). Ransley has submitted eleven winning pieces in Zachary's art contests over the years. In addition to putting animals front and center, this piece celebrated our 30th anniversary!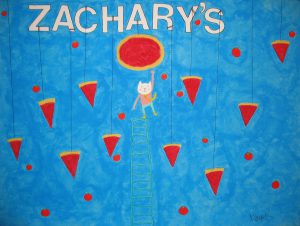 If cats are your furry friend of choice, you have something in common with artist Nikola Bachman. Bachman writes about her winning piece, "I'm a cat lover at heart therefore the kitty in the painting that I drew for Zachary's was inspired by my own cat Jackson."
And don't think that creature-inspired art stops at cats and dogs! Our artists have been inspired by reptiles (Amy Neil, 2005 winner) and insects (Emma Ruth 2012) too!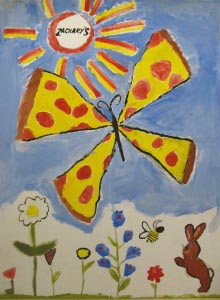 Animals make their way into the art in big and small ways. We will leave you with several more animal-inspired pieces. The deadline for submissions this year is May 16! Pick up your paper canvas at any Zachary's location today!