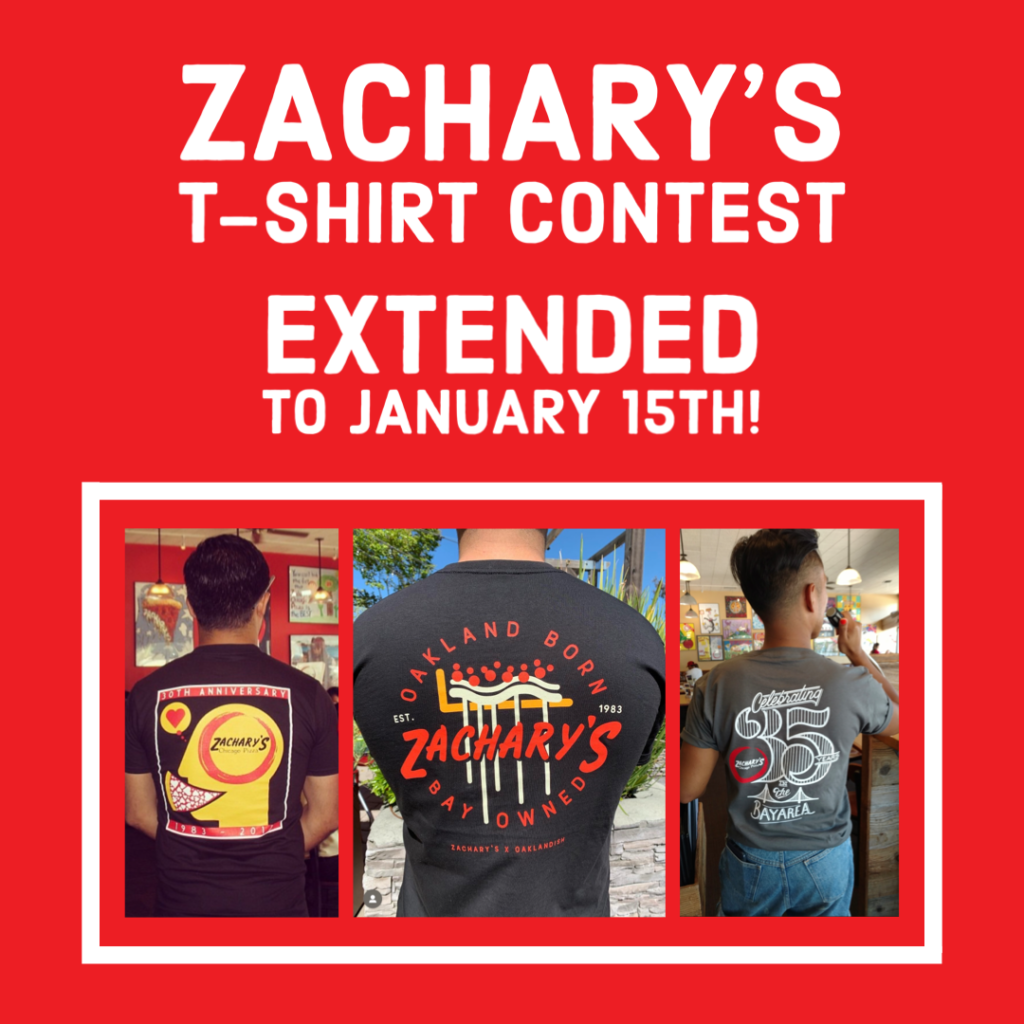 The First Ever Zachary's T-Shirt Contest has Officially Begun!
We're extending our T-Shirt Contest until January 15th!
Where are our Vera Wangs, our Dapper Dans, our Stella Jeans and Betsy Johnsons?! We're calling all of the creatives (professional, amateurs, hobbyist – however you identify!) to the front as we launch our first ever Zachary's T-Shirt Contest!
Starting TODAY, November 14th, 2022 and ending 11:59pm January 15th, 2023, we're accepting digital submissions for a new Zachary's T-Shirt design. Besides your artwork being immortalized on a Zachary's tee, the Grand Prize winner(s) will also receive a $200 Zachary's Gift Certificate and two of their winning t-shirts! 
There is no purchase required to enter – though we personally believe pizza encourages creativity ???? All you need to do is submit your print-ready design in one of the acceptable file formats listed below to hello@zacharys.com on or before the listed end date.
How will the Grand Prize Winner(s) be decided? By you, our dearly loved community! At the end of the contest we'll choose a handful of our favorite designs that will then be put to a community vote via our social media channels and website. Winners will be notified by phone or email no later than February 20, 2023, and announced publicly shortly thereafter!
Please read below for important submission and design details, as well as contest rules.
– While designs should incorporate Zachary's Chicago Pizza logo, they are not required to, but should reference Zachary's in some way. 
-How to Enter: All designs must be submitted to hello@zacharys.com with a signed entry form by 11:59 pm (PST) January 15, 2023. Acceptable file types are Illustrator (. AI), Vector (. EPS), Photoshop (. PSD), PDF., JPEG., TIFF.
-Selection and Notification of Winner(s): Zachary's will first judge designs by originality, creativity, and design aesthetic, creating a top round for community vote, under the supervision of Zachary's.
-Winner Prize: Winner(s) will be awarded a prize package of $200 Zachary's Gift Certificate & 2 Winning Zachary's Shirts (total $250 value). All winners will be notified by phone or email no later than February 20, 2023.
–An official Zachary's T-Shirt Design Contest Rules & Entry Form must be submitted with every entry. The entry form can be downloaded HERE.
-Contest winner(s) must agree to submit a high-resolution layered vector art file within 7 days of notification (if not submitted initially) and agree to work with Zachary's printer if slight changes/modifications are necessary for production. If not, an alternate winner may be chosen.
-Eligibility: No purchase required. This Contest is void where prohibited by law.
– All submitted artwork and designs will become the sole property of Zachary's Chicago Pizza. This includes all subsequent reproductions.
Please email hello@zacharys.com if you have any questions! We can't wait to see all of your creativity on display!