We are over-the-moon excited to announce not one, but two very exciting awards!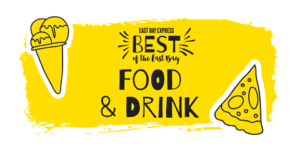 We were voted Best Pizza in the East Bay Express Reader's Poll! Pizza competition is STIFF in the East Bay and we are just delighted! Huge thanks to East Bay Express and our phenomenal, top-notch, pizza-savvy customers. Check out the link to see all of the other food and drink winners. We are in excellent company!
In other, also fantastically exciting news, we were voted Best Pizza in California (what??!! woo-hoo!) by Tripping. As part of Tripping's "America the Beautiful Series" they decided to choose the best pizza from each U.S. state! We've got some cross-country road trip plans in our future!