This October, Zachary's is supporting Breast Cancer Awareness Month. Cancer has touched the lives of many of our crew members, one of whom is Quia White. Quia has been a dedicated Zachary's employee-owner for over 10 years. She is a true inspiration.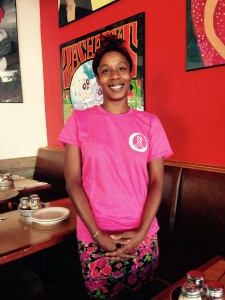 Hello my name is Quia White, I fought Breast Cancer, and won. Here's my story:
At age 24 I discovered a lump on my breast. I was scared beyond belief and immediately called the 24hr nurse hotline. The nurse calmly told me to relax, to check my breast two weeks later, and if the lump was still there to contact my doctor. I desperately wanted the lump to disappear, and for some reason it never occurred to me that this could be breast cancer. So I contacted my doctor and we were all in agreement, there was a lump, and something should be done. My first ultra sound shockingly came back negative for any abnormal growth, and I remember being happy in an uncomfortable way.
I thought to myself, the lump is there, this doesn't make sense. I wasn't quite sure what action to take next. My family was happy and content with the negative results, I however still had the burden of this lump on my body, and was not content with the results. So I waited as long as I could. Eight months later I went back to my doctor,  went through the same exact process as before, except this time I received a diagnosis of Ductal Carcinoma In Situ—noninvasive breast cancer. I went from scared beyond belief into complete melt down mode, I was in utter disbelief. After the smoke cleared and the dust settled, I came to terms with my reality: 1) mastectomy, and 2) four months of chemotherapy! Life has been forever altered by my scrimmage with breast cancer. The one thing I learned is you have to fight for yourself, because no one else can or will.  I am happy to be 5 years cancer free, and look forward to another 5 years!
October is National Breast Cancer Awareness Month which reminds me that having breast cancer does not have to be a solo endeavor. With the support of family, friends, doctors, and various other groups the plight of having breast cancer can be alleviated drastically.  Many organizations are dedicated to research and finding the underlying root cause of breast cancer, which is no small task. There are some major strides being made in breast cancer research that should be acknowledged and applauded. However, let us not forget the many women who have lost their fight against this disease, and who did not reap the rewards of modern day advances. As a society we can continue this scientific progressiveness, which could one day cure all cancers!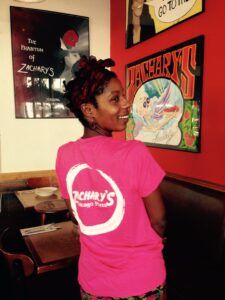 Please help Zachary's support breast cancer research and awareness. During October, we are selling pink Zachary's t-shirts and baseball caps. These item are available at all four locations and on our website: https://zacharys.com/gifts-swag/
All profits from the sales will go to the American Cancer Society.